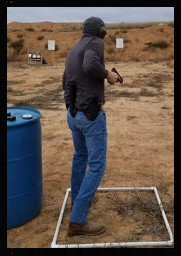 At the Outdoor Range
Cost per gun used in match $5
Shoot your revolver, Pistol or pistol caliber carbine Bring 100 rounds per gun.
The purpose of the 2 gun match is to gain proficiency with the shooters choice of semi-auto rifle/carbine and semi-auto pistol combination. It will be dynamic in nature with target engagements from close to 300 yards featuring positional shooting and scenarios that will require moderate activity. These may include reloads, multiple shooting positions, and target acquisitions. The match will consist of 4 separate stages and scored on a time plus penalty system with the lowest total time prevailing. The stage format will be as follows: 1 rifle only stage from 100-300yds shot on steel targets, 2 pistol/rifle stages shot on steel and paper pistol targets and paper rifle targets, 1 pistol only stage shot on paper and steel targets.

​​
Safety-
As always safety is a paramount and each squad will have a designated RO.The match will be conducted on a cold range meaning no loaded firearms behind the firing line. Under no circumstances will any firearm be loaded or handled behind the firing line and will not become loaded until under direction of the RO. All rounds must come to rest on range property and failure to do so may result in DQ at the RO's discretion. All shooters must strictly adhere to the 180 degree safety plan during all aspects of the match/stage ie target acquisition, reloading, clearing malfunctions, and movement between shooting positions. Failure to do so may result in DQ at the RO's discretion. All long guns will remained racked or cases and all handguns holstered until directed otherwise by the RO.

​​Equipment requirements for the 2 gun match will be as follows:
Handgun-
A serviceable semi auto center fire pistol and holster capable of retention of the firearm while moving, a minimum of one extra magazine and magazine carrier capable of retention while moving. Approximately 100 rds non steel core/non steel cased ammunition. A handgun for match purposes is considered a pistol and one sighting system and must remain in the same configuration throughout all stages of the match. Optics on handguns are allowed as well as compensators but will be scored as a separate open class.
Rifle/Carbine-
A serviceable semi auto center fire rifle capable of accurate target engagements out to 300 yds, a minimum of one extra magazine and carrier capable of retention while moving. Approximately 100 rds non steel core, non steel cased, and non incendiary ammunition.
A rifle for match purposes is considered to be a rifle and up to two sighting systems ie magnified scope, red dot optic, or iron sights and must remain in the same configuration throughout all stages of the match. Use of bipods,shooting bags, and other shooting aids making no more then two points of contact will be allowed in the rifle only stage. No use of tripods will be permitted.

​​Match Procedure-
There will be two match start times one at 10am and a second at 2pm and will begin promptly at those times with a safety/shooters briefing 30 minutes prior. The match will proceed as follows:
1. Upon arrival all competitors will be required to register
2. All competitors will clear all firearms under supervision of an RO and provide samples of all ammunition to be used
3. Based on the number of competitors present at the designated start time shooters will be divided into squads with an RO and scorekeeper in each squad
4. Under direction of the RO the shooter will approach the firing line present scorecard to the scorekeeper and be asked if they understand the coarse of fire
5. Upon stating the coarse of fire is understood shooter will be directed by the RO to load and make ready with ready position being low ready for rifles and handguns holstered
6. Shooter will be asked if they are ready and after responding ready a delayed timer will be activated with the shooter beginning on the beep
7. After completion of the stage the RO will ask shooter to show clear upon which time shooter will remove any magazines and ammunition from any firearms used and show clear by pulling the trigger on an empty chamber with the firearm down range
8. RO will declare range clear and escort the shooter and firearms back to the staging area upon which time the scorekeeper will score targets and all competitors besides the next shooter on deck will assist in taping/resetting targets
9. Once scoring and resetting is complete and all competitors are back to the staging area the RO will direct the next shooter to the firing line and the process will begin again

Scoring-
Shots on steel and reactive targets will be scored either hit or miss with any misses incurring a 5 sec penalty
Shots on paper targets will be scored with two shots required in the A,B,or C zone with a 1 sec penalty for hits outside C zone and 5 sec for a miss
Any procedural penalties will gain an additional 10 seconds
This gives a score of total time+penalties-bonuses if applicable with the scorekeepers findings being final
Any reshoots will be awarded at the discretion of the RO

MATCH DATES FOR 2019





March 10th


​ 2 Gun Match
Semi-Auto, Rifle (Rifle caliber), Semi-auto pistol.
​1st Relay starts @ 10 AM
​ 2nd Relay starts @ 2 PM

​​

​​ May 19th
2 Gun Match​
Semi-auto Rifle (Rifle Caliber), ​Semi-auto pistol
1st Relay starts @10AM
​ 2nd Relay @ 2PM
​​

​
July 21st
2 Gun Match
Semi-Auto Rifle ( Rifle Caliber), Semi-auto Pistol
1st Relay @ 10AM
2nd Relay @ 2PM​​​
​​
​
September 15th
2 Gun Match
Semi-Auto Rifle (Rifle Caliber), semi-auto pistol
1st relay starts @ 10AM
2nd Relay starts @ 2PM​​​​

November 10th​​​​​​​
2 Gun Match
Semi-Auto Rifle ( Rifle Caliber), Semi-auto Pistol
1st Relay starts @ 10AM
2nd Relay starts at 2 PM​​​​​​
Check out the other page:
SA Pistol & PCC
for MATCH DATES ALSO​​